Smooth Viking Pomade Review In 2022
Reviewed by Beautists
Last Updated on February 15, 2022
Works on all hair types
Water-based blend
Natural matte finish
Adds volume and a strong hold
Let's Talk About Smooth Viking's Pomade:
This pomade is from Smooth Viking's popular "hair care" range which covers a wide range of products for different hair lengths and hair types. One of which is their pomade.
Smooth Viking's pomade is water-based and gives any hair type the fine boost it needs to achieve a sleek look, shiny look. Most importantly though, this hair pomade will keep your hair in position all throughout the day thanks to its "long-lasting control effect".
I found that this pomade will provide the right amount of medium hold and high shine finish, which helps keep your hair looking the same as it did when you first styled it, even after a long day at work or a few hours in the gym.
Now, I think the thing guys are looking for when they style their hair is either volume, texture, or both. This is where the pomade really wins. Pomades are naturally good at offering a firm hold so maintaining volume is easy with Smooth Viking's rendition of the popular hair product.
With this volume, you can also create textured hairstyles that look thick and full. You'll look ready to conquer the day and stand out in any room.
What I liked about this pomade though, was how easy it was to apply. You simply lather a small amount in your hands and evenly distribute it to damp or dry hair. Due to its medium-hold and high shine, it's easy to quickly shape your hair and not have to worry about it buckling.
How It Works
This pomade is made with high-quality ingredients that have been carefully formulated to give you strong, but fresh hair. 
It has pretty much everything you could need to look your best, without the use of any harsh or toxic ingredients that can cause long-term damage to your hair.
This men's pomade has just the right combination of ingredients to provide a medium that doesn't collapse under its own weight.
This is thanks to the water-based formula that provides dimension, shine, and all-day control without stiffness or brittleness. See the ingredients below:
Who's It For?
The Smooth Viking pomade is for guys with medium-length to long hair that wants to keep it in place all throughout the day without the worry of your finely tuned hairstyle getting ruined after a mere few hours.
The pomade will give you a medium-hold so there's still some room for maneuver and amendments to be made during the day unlike products with a strong hold such as hair gels.
Pomade in general is best suited for guys with curly or more "out of control" hair thanks to its strength at holding hair in place. once applied this pomade gives your hair a shiny wet look which can really make your hair pop.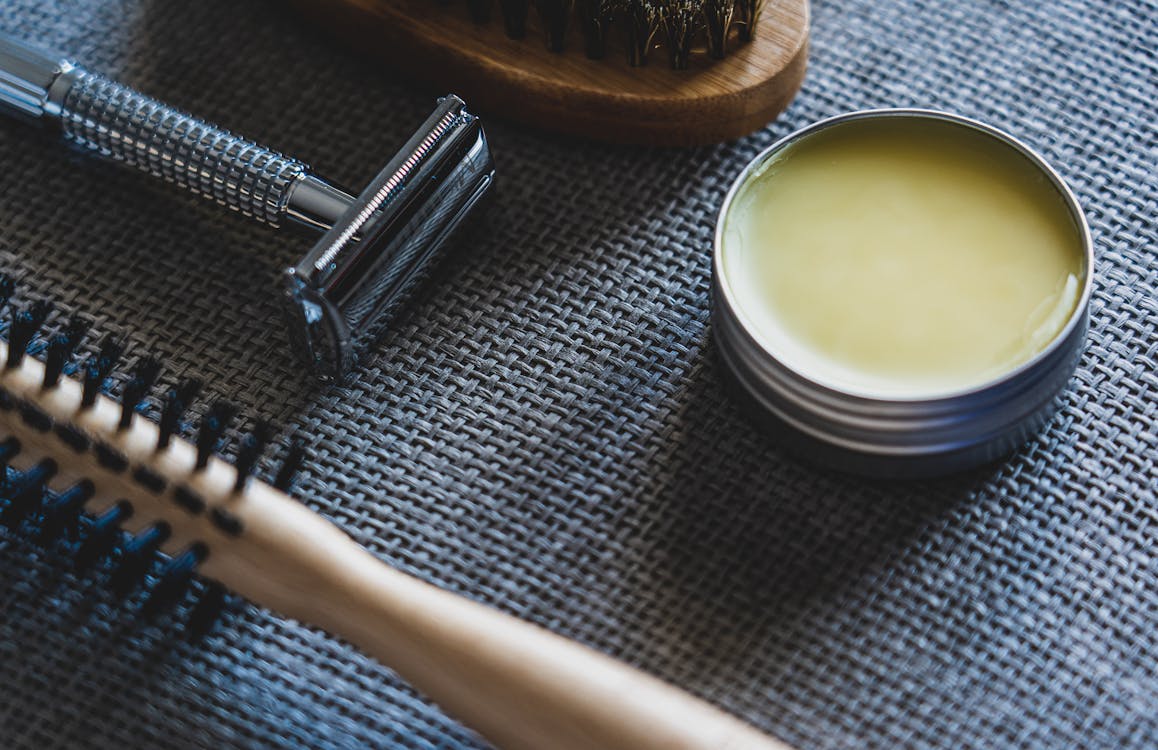 Benefits Of Smooth Viking Pomade: 
Smooth Viking's pomade is an all-around fantastic hair styling product. Many pomades can feel sticky and leave residue behind but I found Smooth Viking's to be as smooth as the name suggests. It gave me that shiny look commonly attributed to pomade but didn't make my hair feel or look greasy.
Quick and Easy to Apply: 
The best thing about the Smooth Viking pomade is that it's great for when you're in a rush. Simply lather a small dime-sized amount into your hands then rub it into damp or dry hair.
In a matter of minutes, you'll have the style you want and with a medium hold that will last all day. If there's one thing I hate, it's when you look in the mirror and notice your hair has crumpled under its own weight or the wind has left it in a mess.
However, with this pomade, you'll need to stand in a wind tunnel for there to be any chance of your hair faltering.
Natural Ingredients: 
I mentioned the ingredients above but I can't stress how great this formula is. It will make your hair feel natural and fresh but give it the smart and sexy look you're craving.
There are no toxic ingredients or alcohol so you don't need to worry about getting any hair breakage from using this pomade.
Why We Love Smooth Viking's Pomade At Beautists:
The thing that stands out with Smooth Viking's pomade is that it's simple. There's no-nonsense or exaggerated advertising to pull you in. It also doesn't promise to change your life because let's be honest, this is a hair styling product after all and there will always be pomades out there that have an edge over the others.
However, this pomade does the job and that's all we want from our products. Too many try to use big words and scientific jargon to draw in customers but Smooth Viking doesn't bore you with the details.
It makes your hair stay in place and gives a textured, shiny aesthetic to your cut. So, if that's what you're looking for then Beautists gives it's badge of approval to Smooth Viking's pomade.
Latest Guide: Smooth Viking Review
No Results Found
The page you requested could not be found. Try refining your search, or use the navigation above to locate the post.