What Is A Facial Cleanser For Men?
Last Updated on January 11, 2022
written by nail expert Jess Rowley
What Is A Facial Cleanser?
Have you been looking to innovate your skincare routine and are debating whether you need a facial cleanser? Or perhaps you've run into the term a few times on your search and still aren't sure what exactly constitutes a 'facial cleanser'?
Well, don't worry, we've got you covered. In this article, we'll look at what a facial cleanser is, how it works, and the benefits of using one.
A facial cleanser is a great tool that works for a whole host of different skin types including oily skin, combination skin, dry, or sensitive skin, and others too.
Facial cleansers are a vital part of any skincare routine and you'll find them added into any good routine, from Korean skincare routines to skincare routines for men.
So, if you want healthy skin then a facial cleanser is the way to go. But let's have a deeper look as to why that is.
So, What Are They?
In short, facial cleansers are formulated to clean your skin and wash your face. They help to clear excess oil, makeup, dead skin cells, sunscreen, and other debris that leads to clogged pores.
They also aid in the exfoliation of skin cells but their main role is to clean our skin without stripping away the top layer as a face scrub does. They're gentler products that work well with sensitive skin.
Facial cleansers come in different forms too so there's always a variety to choose from, and it's helpful to choose the one that best works for your skin type and your lifestyle.
Facial cleanser is a very broad term and can consist of anything from micellar waters, foaming gels, creams, balms, oils to wipes so fortunately for us there are thousands of options meaning they can work for anyone.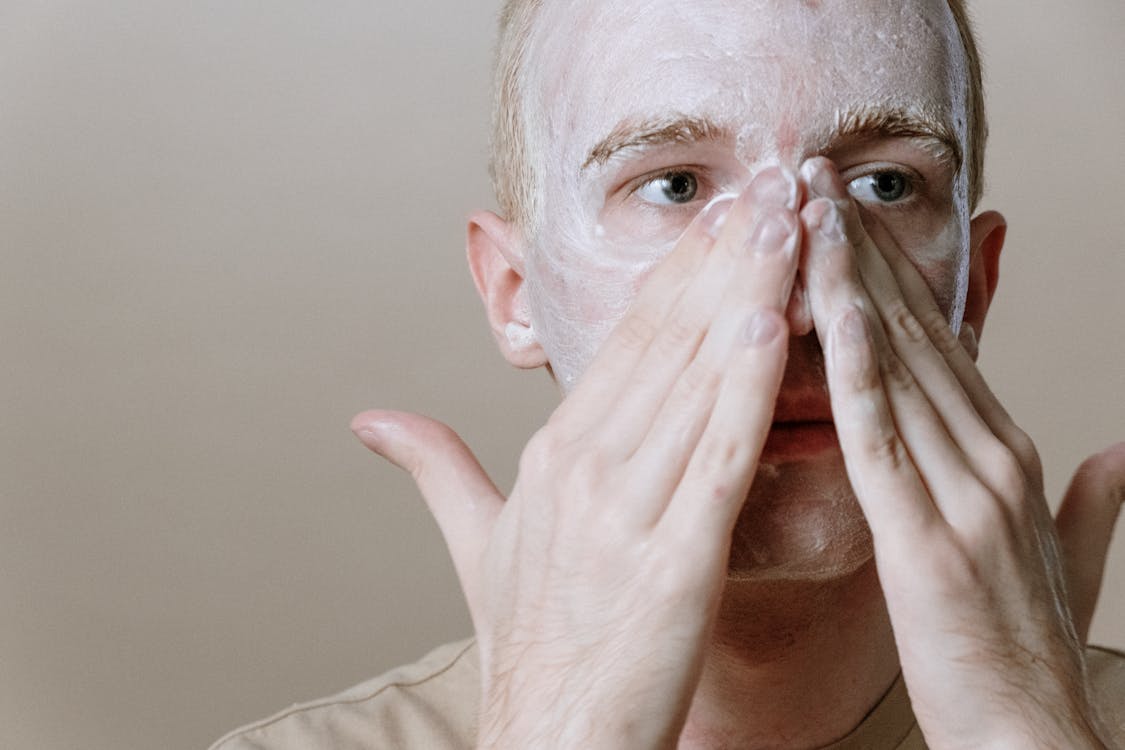 How Do They Work?
The normal pH of the skin is between 4.5 and 6.5 so when you cleanse your skin, there is an interaction that occurs between the cleanser, the skin's moisture barrier, and the skin's pH.
Many soaps contain harsh surfactants that alter the skin barrier and increase skin pH which in turn, increases the potential for dryness and irritation.
Soap-free gel, cream, and foam cleansers are formulated to be as effective, but gentler, causing less disruption to the skin barrier and minimal change to skin pH.
Different Types Of Face Cleanser
Now, knowing what a cleanser does is one thing but finding one is something else entirely. There are a lot of different variations of 'cleanser' and so the best cleanser can be tough to locate given that there are so many options. Knowing the differences between them will help you choose the best products for your skin.
Cream Cleansers 
These are usually thick and can moisturize or cleanse without stripping the skin of their natural oils.
Best for: dry skin, sensitive skin.
Gel Cleansers 
These are clear with a gel-like consistency, hence the name, and many have deep-cleaning and exfoliating properties.
Best for: oily skin, acne-prone skin.
Foam Cleansers 
These are lightweight solutions that create a foamy lather when dispensed from a pump package. Foam cleansers are pleasant to use and remove excess oil as effectively as a gel cleanser does.
Best for: Combination skin.
Waterless Facial Cleansers
A waterless facial cleanser is made with a unique formula infused with menthol and clay to clean and refresh the scalp without water so there is no rinsing required. They remove flakes and eliminate odors.
Cleansing Lotion
If you have dry or sensitive skin then you'll want a lotion cleanser as they're hydrating, gentle and nourish your skin. With their creamy consistencies, cleansing lotions moisturize skin and don't dry it out leaving you with fresh and healthy-looking skin.
Micellar Water
Micellar water is a gentle cleanser that can help cleanse and tone the skin. It promotes skin hydration, removes dirt and oil, plus it helps keep skin clear, it's suitable for all skin types, including sensitive skin.
Rinseable Face Cleansers
Cleansing Gel
Many gel cleansers have a cooling and refreshing formula that can soothe your skin and they're perfect for using morning and night.
Gentle Cleanser
A gentle cleanser can be applied twice a day and will clean your face no matter your skin type. However, there are still many gentle cleansers that have toxic ingredients that will be tough on your skin.
Exfoliating Cleanser
Using an exfoliating cleanser is a great way to remove dead skin cells and get rid of oil on your skin.
Cleansing Face Mask
If you have oily or combination skin, you may want to look for a clay or charcoal cleansing mask. This will purify your pores and remove excess oil from your skin. 
Frequently Asked Questions
What are the best skin care products?
If you're stuck trying to find good products for your skin then check out our guide on the best skincare brands for some top tips and the very best skin products on the market.
What should a face cleanser have?
The best ingredients for normal skin in cleansers are retinol, salicylic acid, vitamin C, and chemical exfoliants. All of these encourage skin cell turnover, increase hydration, and soften the skin to keep it healthy.
Can you use face cleanser everyday?
You should always wash your face at least once a day at the very least. Those with oily skin may benefit from twice-daily washes (morning and night) while drier skin may be fine with just a nightly wash.
What's the best facial cleanser on the market?
 If you want to find the best cleanser out there then check out our buyer's guide on the best facial cleanser for men.
Is a face cleanser necessary?
Most people will only need to really wash their face once a day either in the morning or before bed, you should wash your face with a cleanser to remove dirt and makeup as well as to prevent breakouts.
Then use toner, exfoliant, and serums if you so choose. In any case, always end with moisturizing. A good skincare routine to follow is the Korean skincare routine which utilizes many different products. Check out our article on everything you need to know about Korean skincare.
Is face cleanser and face wash the same?
While it's true that a cleanser and face wash both serve the same basic function – to remove makeup, oil, product, and grime from your face – the way they go about achieving this task is different. Face washes are usually better for very oily skin types, while a face cleanser can be used for any skin.
What are the best men's skincare products?
If you want some suggestions for great skincare products aimed at men then check out our guide to the best skincare products for men.
[Review] in 2022 written by nail expert Jess RowleyCheck out the results fast - here are our review winners[dica_divi_carousel item_width_tablet="400px" item_width_phone="345px"...
Related Post: Best Hair Brushes For Every Hair Type