Last Updated on December 22, 2021
written by nail expert Jess Rowley
How To Get Curls Men
Do you want to get your hair permanently curly naturally?
Having straight hair is great but sometimes we want to try something new and curly hair is a great way to spice up your life and try some new hairstyles (See how to style curly hair).
Now, if you're blessed with naturally curly hair then you'll know all about the possibilities it provides when it comes to men's hairstyles. However, it may still be worth reading so you can define your natural curls and make them look even better.
So, let's begin and get that straight hair curly!
What You Need To Get Curly Hair
There are things to consider before you make straight hair curly. You'll need to consider the things below if you want to transform your naturally straight hair into curly hair.
Clean Hair – You'll want to make sure you have deeply-cleaned and conditioned hair. Slightly damp hair is more manageable for styling, especially if you're applying sea salt spray. Be sure to wash your hair with organic, high-quality shampoo and a good softening conditioner (See Best Shampoo For Men for recommendations).
Heat Protectant Spray – Always use a heat protection spray as it will save you from long-term damage and frizzy hair by drying your hair quickly.
Sea Salt Spray – If you want a wavy or curly hairstyle then finding the best sea salt sprays is a must. Lift It's easy to apply too, simply lift your hair from the roots and spray it so it evenly distributes throughout your hair.
Blow-drying – Getting the right hair texture is important when you try to create curls with short hair especially. What you'll want in particular with your blow-dryer is the diffuser attachment.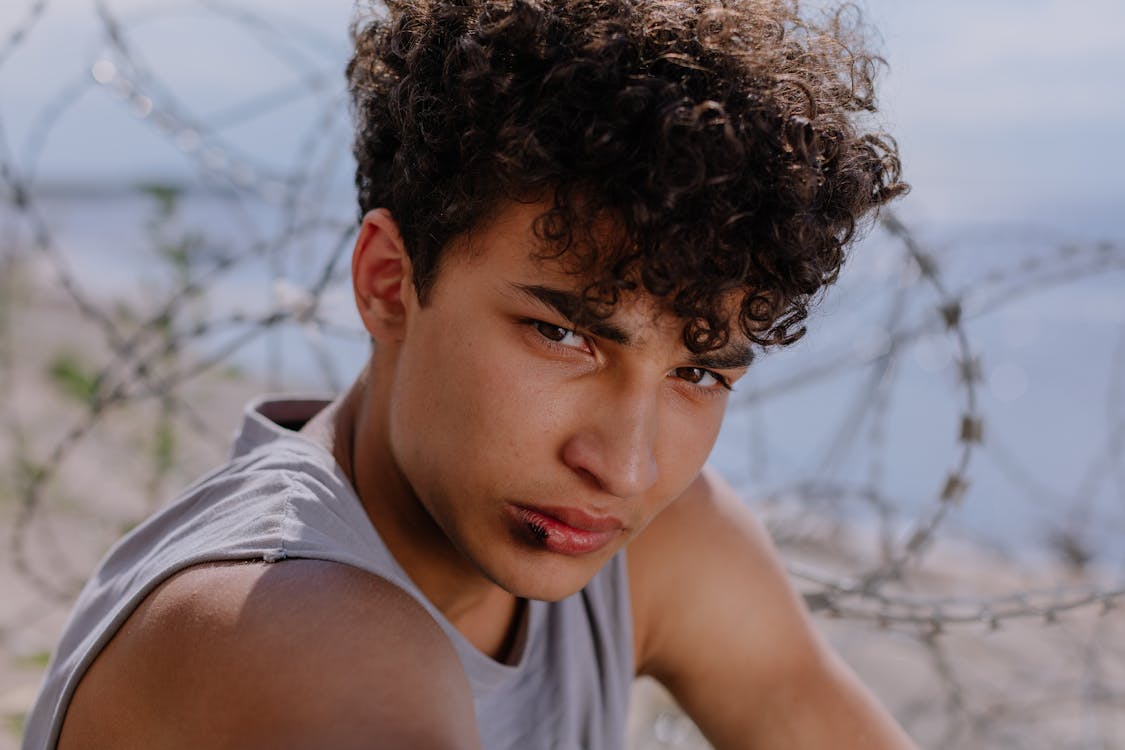 Types Of Curly Hair
Soft-Body Curls
This type of curly hair is ideal for casual, more natural-looking results. These are achieved by boosting your hair's body by incorporating curls that have a soft definition but aren't ringlets. This is a more subtle choice if you're unsure about taking the plunge and going for thicker, more defined curly hairstyles. This type of curly hair works much better if you have medium to long-length hair that already has a level of wave to it. 
How to do it:
Start by towel-drying your hair until it's slightly damp
Apply some sea salt spray and. If your hair is long enough, twist the locks into small sections then combine them into a bun and fasten them with some kind of hairband.
Leave it in overnight or at the very least, until it's totally dry, then undo it to reveal soft, natural-looking curls.
Controlled Curls
If you have short hair and are looking to create texture and volume, then a straightener is going to be vital for this. More so if you have generally limp hair.
How to do it:
Make sure you have dry hair.
Use the straighteners to twist your hair in different directions.
Now apply a hair wax with your fingers. This should enhance the textures you've created and give a more defined finish to your hair.
Surfer Waves
This next type is great for short or medium-length hair. With this, you should try using a texturizing paste to give you that windblown style and a natural-looking matte finish.
How to do it:
Rub a dime-sized amount of product through damp hair, and use your fingers to twist small sections of hair to create a wavy effect.
Then leave it to dry naturally for the best results.`
Crimpled Curves
If you have medium or long hair then get curly hair in this style for a look with volume.
How to do it:
Wash your hair.
Rough-dry it with a hairdryer until it's damp.
Then use a hairbrush to remove any knots and tangles, before dividing it into 3 sections.
Braid each section into 3-strand plaits and then secure them with a small elastic band at the bottom.
Leave it overnight and undo the braids in the morning. Use some hair spray if you want the look to last longer.
Perm
This is a more permanent solution to get curly hair and has become very popular in recent years. A perm is essentially a process through which chemicals break and then restructure your hair's natural bonds.
They can be reformed into your desired shape, be it super tight ringlets or more undone, loose waves – whatever look you want. The effects can last from a few months up to a year, depending on how well you take care of your hair, so it's definitely worth the investment.
How To Get Curly Hair: A Step By Step Guide
Wash your hair – Before you start, you need clean, wet hair. Damp hair is generally easier to style and manage so don't dry it too much after your shower. Wash your hair with a high-quality, all-natural, rejuvenating shampoo and conditioner.
Apply Heat Protectant – Using a heat protection spray will insulate your hair from heat damage that may dry out or frizz your strands as well as help it dry quicker when you use your hair dryer.
Sea-Salt Spray – Find a good sea salt spray and evenly distribute it on your hair. Lift your hair from the root and apply. Otherwise, you can work it through with your hands to ensure it gets from roots to ends. The sea salt spray adds texture and natural-looking waves to your curly hair.
Blow-dry – Now it's time to use a good blow dryer to get the curly hair look. If you have a diffuser attachment, be sure to use it to disperse the heat evenly across your head (this makes a big difference). This will spread the heat to enhance the curling effect, add volume, and minimize frizz and heat damage. If you don't have this attachment then remove the nozzle instead.
Curly Hair – Dry from the bottom up and place the air directly on the roots, pushing upward. Also, use your other hand to scrunch the sections that the heat is touching which will help the sea salt spray do its job. Add more sea salt spray as your hair gets drier.
Individual Curl – To create a more defined look, try wrapping hairs around your fingers and using the dryer on them. If certain sections are not yet wavy, you can spray those areas with sea salt spray again and blow-dry where necessary.
Hair Product – When your hair is dry, add a pliable pomade or cream to hold your curls in place.
Frequently Asked Questions
How long do perms last?
Perms generally last between two and 10 months, depending on what kind of perm you get, what hair-care routine you follow, and how quickly your hair grows.
Should you brush curly hair?
Brushing curly hair too often is a bad idea. In order to maintain your curls, try to keep contact between your brush and curls to a minimum. A good recommendation is to brush hair with the same frequency with which you wash your strands, but what works best can vary based on hair type.
Are perms bad for your hair for guys?
A perm isn't as detrimental to your hair health as bleaching. However, it can weaken and dry strands. If you already have damaged hair, you may be more prone to a brittle feel or even breakage.
Can you undo a perm?
You can undo your perm at home, but you'll have to be careful to apply the chemicals evenly. The easiest way is to apply a perming solution and comb it through. This should break the bonds but there is some risk involved so it may be worth getting it done professionally.
[Review] in 2022 written by nail expert Jess RowleyCheck out the results fast - here are our review winners[dica_divi_carousel item_width_tablet="400px" item_width_phone="345px"...
Related Post: Best Hair Brushes For Every Hair Type
No Results Found
The page you requested could not be found. Try refining your search, or use the navigation above to locate the post.