How To Cut Men's Curly Hair
Last Updated on December 6, 2021
written by nail expert Jess Rowley
How To Cut Men's Curly Hair
Have you got thick curly hair but aren't sure how to tame it with your hair clippers?
Well, curly hairstyles can be tricky to achieve, and to style curly hair you need to have the right length of hair otherwise you'll get nowhere. It's a lot harder to master than straight hair.
In this article, we'll tell you step by step how to cut men's curly hair and take a look at the best curly hairstyles so you have some ideas on how you can transform those thick curls into a sexy and stylish look.
Now, let's jump into this and get you a new curly haircut.
How To Cut Men's Curly Hair: A Step By Step Guide
Hair clippers are a great option if you'd like to achieve a clean-cut look along the sides and back of the head.
Bear in mind that whenever you use clippers, you'll need to pick out the right guard—this is a special cover that helps keep your hair a short, consistent length. To find out more about hair clippers check out our article on how to cut hair with clippers.
Horseshoe – Start at the back of your head, working with horizontal sections and blunt cutting to your desired length.
Clipper Over Comb – Slide a wide-tooth comb through your hairline so the strands poke between the teeth. then use your hair clippers to shave off the strands poking through the comb. Do this around the sides too.
Top – Now for the top of your head, working again with horizontal sections but this time they'll be pulled to the front of your head. Blunt cut just above your eyebrows.
Hat Line – Now comb your hair to the hat line and blunt cut once again to connect the top with the sides. This should create a slight oval shape.
Medium Styles (Optional) – For a medium-length cut, you might leave the hair around 3 inches along the top.
Long Styles (Optional) – For a long-length hairstyle, you can leave the hair at least 5 or 6 inches long on top.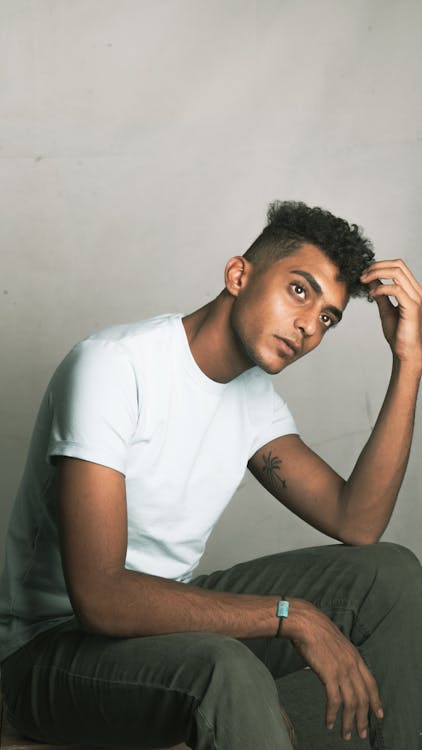 Short Curly Hair Styles
Side-Swept Curly Hair
This next style is great because it puts your curls on show. Volume is important with this so it can require some maintenance, and you may have to make some amendments to your locks throughout the day to avoid them from falling in your eyes.
Curly Taper Fade
A taper fade gradually cuts the side and back of the hair short, while the top is left longer. There are many ways to try out this fade, but curly hair is one of the best because it adds structure to your curls and makes them the main attraction of your look.
Curly Short Afro
Letting your curly hair do its thing can also provide a great look but mix it with a fade haircut and you'll be the smoothest looking guy in town. You just need to get a cropped length on top that gradually shortens down the sides to reveal a clean shave around your ears. For tips on how to cut a fade have a look over our article on how to cut your own hair with clippers fade.
Curly Caesar
The Caesar is defined by its short horizontal bangs and an even length throughout; the side, back, and top are all kept at similar lengths. A curly Caesar is a fantastic way to make your curls look stylish and require little maintenance. There are many ways to style it too so you don't have to stick to one method. Try a messy and uneven look or opt for a more uniform and tidy appearance.
Curly Low-Fade
These cut the back and sides short, with the hair tapering down lower on the head. For the short fade, the top is left longer but still relatively short. This is fantastic with curls because you can make them stand out as much as you like or have them sit a little more subtly on your head.
Curly Mid-Fade
The mid fade compliments your curls more, allowing for more length on the top. A mid fade falls between a low fade and high fade (hence the name) and is defined by tapering between the temple and ears.
Curly High-Fade
Curly hair is incredibly versatile and can be styled in several ways, but if you want an effortlessly cool and modern look, then opt for a curly high fade. A high fade starts at or above your temples and features short sides and back.
Curly Slicked Back
Slicked-back curls are a fantastic way to show off what nature gave you. You can go matte or glossy depending on the product just make sure you choose one that will complement your hair's naturally curly texture. It's worth bearing in mind face shape and hair length for this one though because the look can't always be pulled off if you have shorter hair or a more uncommon face shape.
Tight Curls
Many men naturally have smaller, tighter curls but you can enhance your natural short curly hair with hair products like pomade or a styling mousse, working product in with your fingertips. Look at our article on how to style men's hair for more advice on hair products and which ones to use.
Medium Curly Hair Styles
Curly Fringe
You'll need a lot of hair to pull this one off so grow it out as you need thickness when styling your curls in this way. After styling your hair with a shiny pomade, apply a bit of hairspray to ensure everything sits right.
Curly Fauxhawk
The faux hawk is less abrasive and full-on than a mohawk as you have short sides, and hair is kept longer on the top as opposed to a shaved head with tall hair on top. This is a much more youthful and modern take on the classic trim and best of all it's very customizable. You can have a subtle faux or make it look more dramatic just experiment with the volume of the faux hawk and see what you prefer.
Curly Curtains
The curtain haircut is defined by a long fringe parted in the middle or on the side. It's had a bit of a comeback as of late and this may be because it can be adapted to suit your hair length and texture making it a very accessible style with very little work required.
Curly Undercut
This is a popular style for straight hair too but with curly hair, you really add a new layer of dimension and fullness to it. It's especially great for guys with more unruly curls, an undercut boasts shorter sides, meaning the only coils you'll need to manage are the ones up top.
Curly Pompadour
Curls will boost the thickness and fullness that this favorite 50s style already has. The trick to ensuring that a pompadour works best for your curls is to manage your natural waves, so your hair is kept neat and in place.
Curly Bowl Cut
Today's modern bowl cut is full of texture and a little bit messy compared to its straighter more uniform counterpart in the 90s. As such, gents with curly hair are the perfect candidates for rocking this style. All you need is a low undercut with a long length on top that sits evenly in line with your bangs.
Curly Side Part
The side part is arguably one of the most iconic and timeless hairstyles of all time. Men with curls will add volume to this classic, just ensure that you part your hair on the side that suits the way your hair naturally grows and opt for a sleek, glossy finish for an authentic retro revival.
Long Curly Hair Styles
Messy Curls
Ironically, messy curls can actually be quite a challenge to the master. While you want to give the impression that you woke up with that hair, messy curls can take some time to get right. We'd recommend applying a styling foam or mousse to your damp hair and scrunch and curl using your fingers to get the desired body you want.
Curly Man Bun
The man bun looks brilliant when you have natural curls. You'll obviously need long curly hair for this one so grow it out and to maximize your curly man bun, go for a textured, slightly messy approach.
Curly Glossy Curls
using glossy products is another cool way to style out that curly hair. Ensure your curls have a bit more shine and are well-styled, as opposed to flaunting drier or more textured finishes.
Frequently Asked Questions
Do I need to maintain my hair clippers?
If you want to find out more about maintaining your hair clippers then check out our articles on how to clean hair clippers and how to sharpen hair clippers.
Can you ruin curly hair by cutting it?
Cutting curly hair will not make it curlier, but could help enhance your natural curl pattern. And while it's true that cutting your curls can make them appear bouncier and springier, your final results will still come down to your unique curl type and how your hair is cut.
Does curly hair need to be cut differently?
Curly hair should not be cut the same way as straight hair. Curly hair is drastically shorter when dry than when wet. Most curl types should be cut at an angle. For tight curls, uneven layering works best. Make certain your cut doesn't flatten your crown.
What happens if you don't cut curly hair?
When you don't cut naturally curly hair, the ends become weak and don't hold their natural shape properly. So, by cutting off the dead ends, you bring life back into your curls.
[Review] in 2022 written by nail expert Jess RowleyCheck out the results fast - here are our review winners[dica_divi_carousel item_width_tablet="400px" item_width_phone="345px"...
Related Post: Best Hair Brushes For Every Hair Type