How To Condition Mens Hair
Last Updated on March 21, 2022
written by nail expert Jess Rowley
How To Condition Mens Hair
Are you wondering how to condition men's hair?
Well, you're not alone. We've all bought a hair conditioner and wondered if we were really getting the most out of it or, noticed that we still have dry hair after using it.
Is it to do with hair type or the way you apply conditioner?
These are the kind of questions we're going to answer in this article as well as give you a step-by-step guide on how to use hair conditioner the proper way so you can keep hair healthy and prevent any hair breakage.
Applying conditioner isn't too complicated but there are some things you should know such as whether to use it on your hair everyday or whether you should use both shampoo and conditioner together and as frequently as one another.
Read on and you'll soon be an expert in how to use your daily conditioner and use it properly regardless of whether you have long hair, split ends, or brittle hair.
As a side-note, if you're looking for the best leave-in conditioner then have a look at my buyer's guide on the best leave-in conditioner for men's hair.
What Is Conditioner
Conditioner keeps your hair soft, strong, and hydrated. It's filled with hair-strengthening vitamins, minerals, proteins, and other nutrients, all of which absorb into each hair follicle to nourish hair and add weightless moisture.
Using a conditioner prevents hair from becoming too dry and fortifies the hair cuticle to prevent damage and breakage.
Conditioner also produces a protective coating to the outer layers of the hair shaft which gives the hair sheen and a thicker appearance so if you have thin or fine hair, you can get a much more dense appearance and look like you have thick hair with volume and texture.
It is especially important to apply if after shampooing or if you have dry hair. Those with coarse hair may also benefit from using a conditioner too as its moisturizing properties are very helpful for this hair type.
How To Apply Hair Conditioner: A Step By Step Guide
1) Wash – Washing hair in the shower is one of the most vital parts of having healthy hair and getting the most from your conditioner. You need to rinse out excess oils (don't wash your hair too often as your hair still needs natural oils) and any dirt or hair product that is left in your hair.
2) Apply – Use the amount of conditioner recommended on the bottle but if there aren't any clear instructions then use a dime-sized amount.
3) Distribute – Spread it evenly on the ends of your hair and not on the scalp. If you have long hair, then spread it from chin level and down.
4) Comb – Run your fingers or a wide-tooth comb through the ends of your hair to work in the conditioner.
5) Settle – Now, let it stay on your hair for around a minute or longer if advised on the back of your conditioner's bottle.
6) Rinse – Next, thoroughly rinse off the conditioner with warm water.
7) Dry – Lastly, pat your hair dry with a towel. Don't do this too hard or rough though as it can damage your hair or make it frizzy.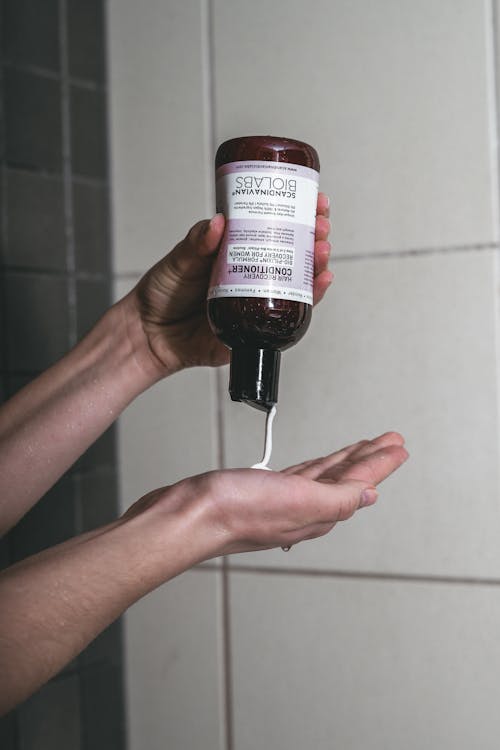 Type Of Hair
When choosing a conditioner, you should take into account your hair type and styling routine. Hair with different textures will need different ingredients to best treat it and if you blow-dry (see how to blow-dry men's hair for more info) your hair every day or get it colored often, it will need extra moisture.
Curly hair
Curly hair can be prone to dryness and frizz so if your hair is curly, you should be sure to evenly spread the conditioner through the hair follicles. You can also keep a wide-tooth comb in the shower, and run it through your hair after applying conditioner. If you want some recommendations for conditioners that work well with curly hair then check out our buyer's guide on the best conditioner for curly hair.
Color-treated hair
Bleaching, coloring, and perms have a much greater chance of leading to damaged hair. If you have had your hair colored then look for shampoo and conditioner made specifically for color-treated hair.
Textured hair
If you have thicker hair shafts than others, you could look for a stronger conditioner that will better heal and protect your hair.
Why You Should Use Conditioner
Men should always use conditioner if they want their dream hair. The amount you use will depend on the length of your hair and hair type though.
However, all guys and all hair types will benefit from a hair conditioner. Conditioners are brilliant at making any hair type its healthiest, strongest, and style-ready.
The most notable scene in which conditioner is a must would be if you use a lot of men's shampoos which is to say if you shampoo more than 2-3 times a week, then you definitely need to use conditioner.
Frequently Asked Questions
Is conditioner good for men's hair?
Yes, it is. Damage from combing, hair products, sun, and general dirt accumulation can dry out your hair. As a result, hair can look straw-like and dull. … Conditioner works by infusing nutrients and moisture into the outside cuticle of your hair strands, keeping them looking healthy and great.
Can conditioner cause hair loss?
No, using a hair conditioner doesn't cause hair to fall out. It in fact does the opposite and reduces hair weakness and hair fall due to breakage.
Is it OK to use a conditioner every day?
Unlike shampoo, conditioner can, and often should be used every day, as it re-hydrates hair and replenishes nutrients creating healthy, fuller hair. You might also want to consider conditioning as a substitute for the days you don't use shampoo. It'll help rinse away grime on the non-shampoo days, and re-hydrate following a shampoo.
How often should men wash their hair?
There's no one-size-fits-all rule for washing frequency. But on average, a guy should wash his hair two to three times per week. This routine is standard for maintaining clean hair with a healthy moisture balance.
What is the best men's hair conditioner?
The best men's conditioners will not only nourish the hair but make it feel healthy and smooth to the touch. the difference between hair that has had a high-quality conditioner and an average conditioner applied to it is night and day. If you're looking for some recommendations then have a look at my buyer's guide on the best conditioner for men's hair.
[Review] in 2022 written by nail expert Jess RowleyCheck out the results fast - here are our review winners[dica_divi_carousel item_width_tablet="400px" item_width_phone="345px"...
Related Post: Best Hair Brushes For Every Hair Type