Last Updated on January 19, 2022
written by nail expert Jess Rowley
How To Brush Men's Hair
Have you been looking for styling products to get you the kind of hair you've always dreamed of?
Well, a hairbrush is only going to make the styling process easier as they can help direct your hair in the right direction as well as provide other health benefits such as distributing your natural oils across your scalp.
You should use a hairbrush in your styling routine but how exactly do you use one?
That's what we're going to cover in this article from the types of bristles, tips on using your hairbrush, and what brushes you should use based on your hair type.
So read on and you'll be gliding through that hair and detangling any knots with ease.
Types Of Hair Brushes
Synthetic bristle brushes
Synthetic bristles are usually made from nylon or plastic and are generally spaced out on the brush head more. This means they tend to work better on thick hair and coarse hair. They do a better job at detangling due to the wider-spaced bristles and don't generate as much static as natural bristles do but they will do a good job of keeping your hair healthy.
Natural bristle brushes 
Natural bristle brushes are typically made from boar bristles and are popular for their ability to evenly disperse your hair's natural oils and give your straight hair, curly hair, etc. a very natural shine. The bristles are very close together so natural brushes work best in fine hair but never use them with wet hair.
Combination bristle brushes
Combination bristle brushes, as the name suggests, give you the best of both worlds, as they can detangle and add shine to the hair with the comb teeth. These would be the most versatile and work with fine to normal hair but may be less effective on kinky hair.
How To Brush Your Hair
The Right Comb – Plastic combs are widely used by most guys but the problem with these is that they can often lead to static which can cause frizzy hair and strays that you just can't tame. Instead, I'd suggest using a rubber comb on wet hair and a wooden comb on dry hair. It's also better to use a comb with more widely spaced teeth, as this will gently pull apart knots and tangles. A fine-toothed comb can get snagged on knots and lead to accidental breakage which can be a nightmare, especially for guys with longer hair.
Shampoo After Comb – Your routine will be much more efficient and effective if you comb your hair before washing it with shampoo for men. This is because it will help reduce the likelihood of knots and tangles forming as you lather the formula onto your strands.
Not Too Rough – Speaking of being gentle, always comb your hair softly and not asif you're trying to sand it down. This is especially true for guys with long hair, but it applies to all hair lengths and any hair type. If your hair is on the longer side, work your way from the ends upward when combing through. If you're struggling to detangle your hair, then you should be patient and take your time as oppoed to forcing your comb through which will only cuse more problems than it solves.
Comb After Conditioner – Now combing before washing is one thing, but it's also not a bad idea to do so after you've applied your conditioner but before rinsing it out. This can help to evenly distribute the product to ensure every strand is moisturized. (Check out best leave-in conditioner for men for recommendations)
Detangle – Everyone knows that a comb and hair brush are good for detangling but it's especially handy for detangling your hair after your shower. Whether you're a guy with long, medium, or short hair, a wide-toothed comb is going to get rid of all those nasty knots and give you the hair that you're looking for.
Blow Dryer – You can use your comb or brush alongside a blow dryer to help shape the hair style you're going for. Blow-drying helps with hair styling as the heat helps to set your hair into place so it's well worth learning how to master the art. (See how to blow dry men's hair for more tips)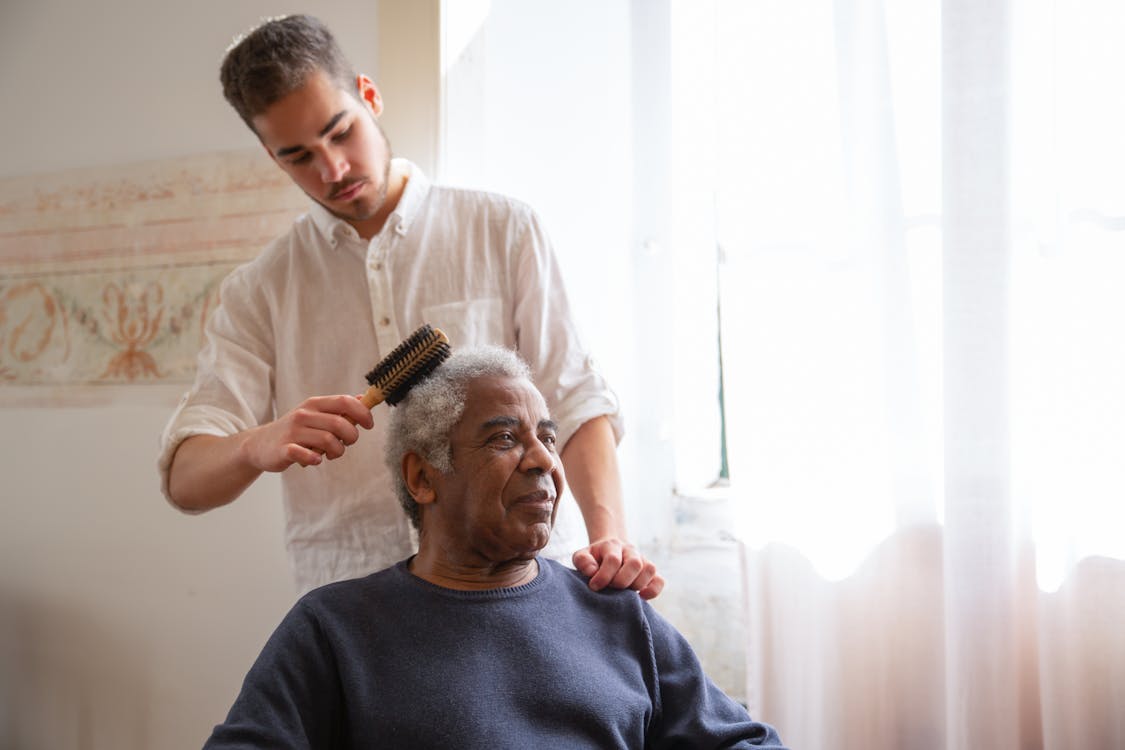 Brush Type and Hair Type
It's worth knowing what types of hairbrush work with which kinds of hair. below are the primary hair types and the brush types that work best with them.
Straight Thin Hair:
Denman Brush
Rectangle Brush
Paddle Brush (long straight thin hair)
Oval Brush (long straight thin hair)
Round Brush (doesn't always work well)
Vented brush
Pocket Comb
Military palm brush (short straight thin hair)
Foldable Comb
Thin hair is more lightweight and tends to fall flat over your head giving a limp and sometimes lifeless appearance. There's also more difficulty increasing its volume which can make thin hairstyles for men quite limited or difficult to achieve. Check out our article on how to style thin hair: men for some tips on getting a good style with limp and thinner hair.
Straight Thick Hair:
Denman Brush
Rectangle Brush
Paddle Brush (long straight thin hair)
Oval Brush (long straight thin hair)
Round Brush
Vented Brush
Pocket Comb
Wide-tooth comb (doesn't always work well)
Foldable Comb
Thick straight hair covers the scalp better and contains all 3 hair layers (cortex, cuticle, and medulla) which mean it takes more time to dry. The texture isn't as fragile as thin straighter hair either so you can style it in different ways more easily.
Wavy Hair
Denman Brush
Rectangle Brush
Oval Brush
Round Brush
Vented Brush
Pocket Comb (doesn't always work well)
Foldable Comb (short wavy hair)
This type has wave-like patterns that are created when the hair shafts don't coil up within the first 3 inches of length. Instead, they resemble loose and stretched-out S-shapes (like Superman).
One advantage of this hair type is flexibility as you can style it in many different ways and it's less likely to be affected by the wind. however, this hair type will frizz more easily.
Kinky Hair (Tight Curls)
Hair Pick (long hair)
Wide-tooth Comb (doesn't always work well)
Military Palm Brush (short hair)
Hairbrush Sponge
The coiled intervals in this hair type are short enough that the shafts form sharp Z-shaped twists. These twists develop within the first half-inch of length from the scalp. This hair type is most prominent in those of African descent and can gain lots of volume.
However, they require much more maintenance as they can appear fuzzy if not cared for properly. On top of that, dryness and shrinkage may also be problems if you're not careful.
Coiled Hair (Large Curls)
Oval Brush
Round Brush
Hair Pick
Wide-tooth Comb (doesn't always work well)
Military Palm Brush (short coiled hair)
Large curls have shafts that create distinct S-shaped within the first 2 inches from the scalp which helps to create lots of coverage over the scalp giving curly-haired guys the appearance of a full head of hair. The actual hair strands here can either be coarse or fine with the former being more prone to frizziness, while with fine strands, it's harder to create well-defined curls.
Frequently Asked Questions
What is the best hairbrush for men's hair?
There isn't one magic hairbrush that will solve everyone's problems and the types of hairbrush you need will depend on your hair type. However, if you want some recommendations of good brushes then check out our buyer's guide on the best hairbrush for men's hair.
Which way should you brush your hair men?
The direction in which the cowlick spirals can actually tell you the direction your hair grows. That means if the spiral grows counter-clockwise, you should part your hair on the right. If it grows clockwise, you should part your hair on the left.
Is it good to brush men's hair?
A brush can be used on pretty much any hairstyle and, if used well, will give you more control over how the shape develops. As it gets longer, using a brush to lift the hair and direct it into shape more will make life a little easier.
[Review] in 2022 written by nail expert Jess RowleyCheck out the results fast - here are our review winners[dica_divi_carousel item_width_tablet="400px" item_width_phone="345px"...
Related Post: Best Hair Brushes For Every Hair Type